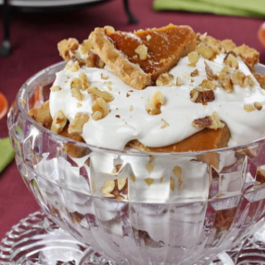 Courtesy of Mr. Food Test Kitchen
Servings: 8
Prep Time: n/a
Cook Time: n/a
Chill Time: 1 Hr.
* 1 (9-inch) cooked pumpkin pie
* 1 (16-ounce) container frozen whipped topping, thawed
* 2 Tbsp. maple syrup
* 1/4 c. chopped walnuts (optional)
1. Cut pie into 8 slices then cut each slice into thirds.
2. In a medium bowl, combine whipped topping and maple syrup; mix well.
3. Spoon one-third of the whipped topping evenly into a large serving bowl. Layer half the pie chunks, repeat with another layer of whipped topping and remaining pie chunks.
4. Top with remaining whipped topping and sprinkle with walnuts, if desired. Serve or refrigerate until ready to serve.

Recipe and Image from the Mr. Food Test Kitchen
© 2018 Ginsburg Enterprises Incorporated. All rights reserved.