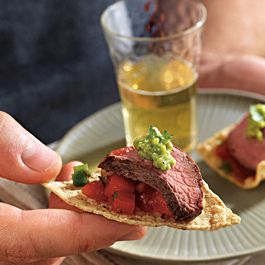 Courtesy of The Beef Checkoff
Servings: 24
Prep Time: 25 Min.
Cook Time: 16 Min.
Marinate: 15 Min.
* 2 beef shoulder top blade (flat iron) steaks (about 8 oz. each)
* 1 c. thick-and-chunky salsa, divided
* 2 Tbsp. fresh cilantro
* 24 large corn tortilla chips
* 1/2 c. guacamole
* 24 fresh cilantro leaves (optional)

1. Place beef steaks and 1/2 c. salsa in food-safe plastic bag; turn steaks to coat. Close bag securely and marinate in refrigerator 15 min.-2 hr. Combine remaining 1/2 c. salsa and chopped cilantro, as desired; cover and refrigerate until ready to use.
2. Remove steaks from marinade; discard marinade. Place steaks on grid over medium, ash-covered coals. Grill, covered, 10-14 min. (over medium heat on preheated gas grill, 12-16 min.) for medium rare (145°F) to medium (160°F) doneness, turning occasionally.
3. Carve steaks into thin slices; cut slices into bite-size pieces. Arrange chips on platter. Top each chip evenly with reserved salsa mixture, beef and guacamole. Garnish with cilantro leaf, if desired. Serve immediately.

* Nutrition information per serving, using flat iron steak.

* One lb. beef top sirloin or top loin steaks, cut 3/4-in. thick may be substituted for flat iron steaks. Grill top sirloin steak on charcoal grill, 7- 11 min. (on gas grill, 8-13 min.); grill top loin steaks on charcoal grill, 7-10 min. (on gas grill, times remain the same) for medium rare to medium doneness, turning occasionally.

* Recipe courtesy of The Beef Checkoff.
Calories: 59;
Total Fat: 3g;
Saturated Fat: 1g;
Cholesterol: 12mg;
Total Carbs: 5g;
Fiber: 1g;
Protein: 4g;
Sodium: 134mg;